Dental Implants
What exactly are dental implants?
Dental implants are a type of tooth replacement that is used to replace missing teeth. A titanium metal screw that replaces a tooth root is known as an implant. The implant serves as a foundation for prosthetic (fake) teeth such as:
Bridges for the teeth.
Crowns for the teeth.
Dentures.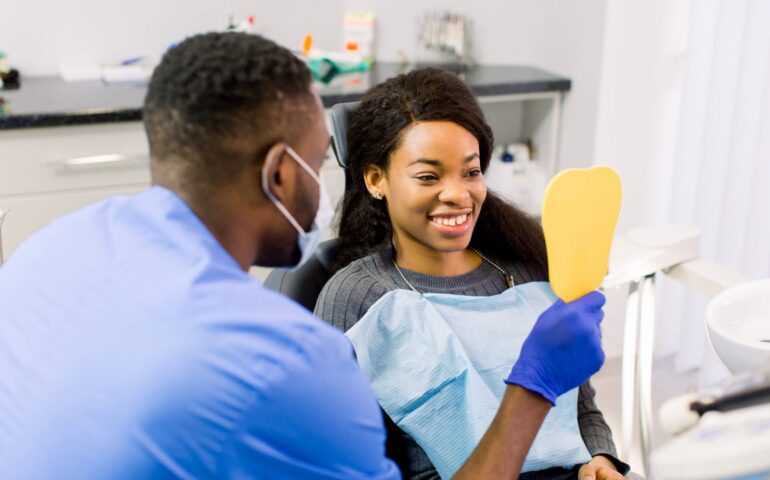 01.
Who could benefit from dental implants?
Dental implants are suitable for the majority of people who have one or more missing teeth. You may require a dental implant if you lose a tooth as a result of: cavities (tooth decay), Root fracture of a tooth, Clenching or grinding is a habit, Cleft lip and palate (put this at the bottom of the list), Injury to the face, Periodontal disease.
02.
What are the advantages of having dental implants?
Dental implants can help you look better, speak better, and chew better. Implants may be recommended by your dentist to secure permanent or removable dental bridges and dentures. Because implants are permanent, you do not need to use adhesives like those used to secure dentures. And, unlike dental bridges, which necessitate the removal of portions of nearby teeth, all of your healthy teeth remain intact. Cavities do not form on dental implants.
03.
What should I do to get ready for a dental implant?
You should do the following before having a dental implant procedure: Give your dentist an up-to-date list of your medications and supplements. It is critical to inform your dentist if you are taking a blood thinner. In consultation with your doctor, your dentist will determine whether you must discontinue any medications prior to the implant procedure. Make sure you've recently seen your primary care provider for a checkup and blood work to rule out any conditions that could interfere with implant success.
What are the potential risks or complications associated with dental implants? Dental implants are a relatively safe procedure. There is a 5% chance that your implant will be rejected, meaning it will become loose or infected and will need to be removed. When the implants are replaced in these cases, they work more than 90% of the time. Furthermore, there is a small risk of nerve injury to the nerves that supply your face and gums, but with careful planning, this risk is virtually eliminated.
05.
Who isn't a candidate for a dental implant?
Certain factors can reduce the likelihood of a successful dental implant. If you have any of the following conditions, you may not be a candidate for dental implants: Smoke. Have previously received radiation therapy to the head and neck. Diabetes is uncontrolled.
What is the efficacy of dental implants? Dental implants are extremely long-lasting. Implants can last a lifetime for some people. In general, dental implants have a success rate of 95% or higher.
07.
How should I look after my dental implants?
Although dental implants cannot develop cavities, gum disease can develop at the implant site. Oral hygiene is essential for the protection of teeth and implants. You must: Brush and floss your teeth and gums on a daily basis. Maintain regular dental checkups. Learn how to properly care for your dentures or dental bridges in order to protect both the devices and your gums.
When should I make an appointment with the dentist? If you have any of the following symptoms, you should contact your doctor: Having trouble chewing, speaking, or opening your mouth- Swelling of the face- Toothache or pain in the mouth- Gum infection symptoms include persistent bad breath, swollen, painful gums, tooth looseness or new gaps between teeth, and pus.