Dental X-Ray
X-rays, also known as radiographs, are an essential part of any dental care treatment plan. They are diagnostic, but they can also be preventative, by helping a dentist diagnose potential oral care issues in a patient's mouth before they become a major problem. An x-ray is a type of energy that passes through soft tissues and is absorbed by dense tissue. Teeth and bone are very dense, so they absorb X-rays, while X-rays pass more easily through gums and cheeks.
If you're a new patient, you'll probably undergo dental X-rays to get a clear picture of your dental health. This is especially important if you don't have any X-rays from your previous dentist.
While dental X-rays do involve radiation, the exposed levels are so low that they're considered safe for children and adults. If your dentist uses digital X-rays instead of developing them on film, your risks from radiation exposure are even lower.
The dentist will also place a lead "bib" over your chest, abdomen, and pelvic region to prevent any unnecessary radiation exposure to your vital organs. A thyroid collar may be used in the case of thyroid conditions. Children and women of childbearing age may also wear them along with the lead bib.
Pregnancy is an exception to the rule. Women who are pregnant or believe they may be pregnant should avoid all types of X-rays.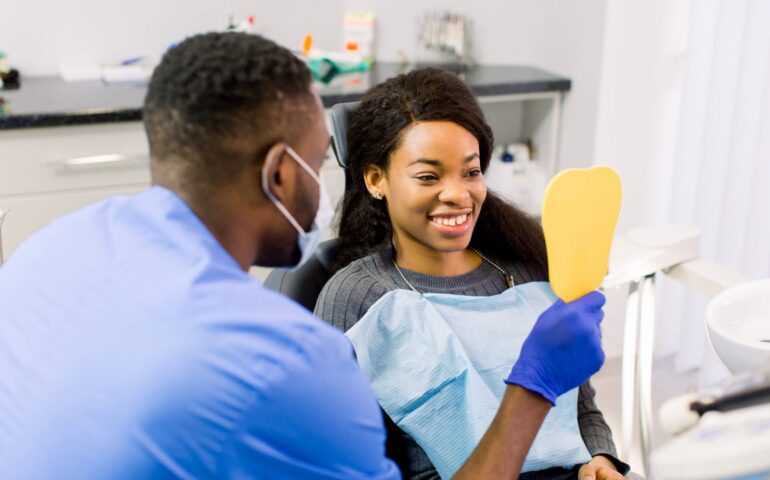 IMPORTANCE OF DENTAL X-RAYS
Check the health of the bony area around the tooth
See the status of developing teeth
Look at the status of impacted teeth
Examine the bones of the face.
TYPES OF DENTAL X-RAYS
Intraoral X-rays are the most common type of radiograph taken in dentistry. They give a high level of detail of the tooth, bone and supporting tissues of the mouth. Examples of intraoral x-rays includes: • Periapical radiograph • Bite wing radiograph • Occlusal radiograph
Extra oral X-rays are made with the film outside the mouth. These can be considered the "big picture" X-rays. They show teeth, but they also provide information on the jaw and skull. Examples of extra oral x-rays includes: • Panoramic x-rays • Cephalometric projection