Braces
Orthodontic braces are an excellent means of correcting jaw alignment, adjusting tooth spacing, and boosting your child's or teen's confidence and self-esteem. The advantages of braces treatments have numerous positive side effects for overall dental health, including: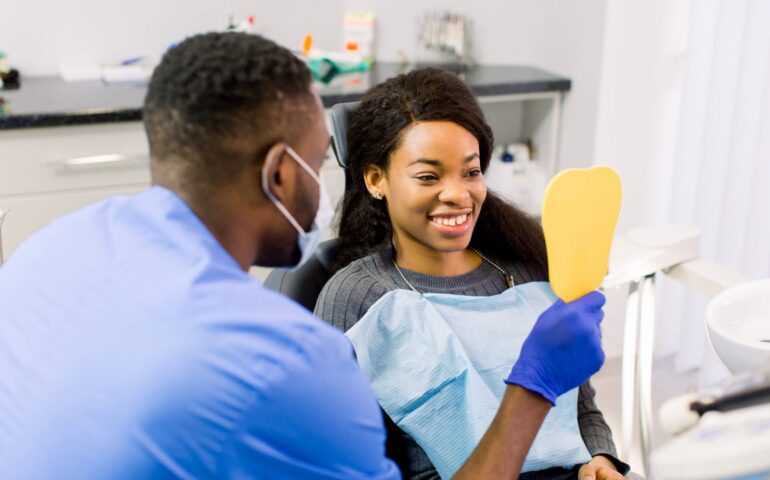 Speech impairment alleviation
Brushing, cleaning, and flossing teeth with ease
Cavities and periodontal disease are reduced.
Reduced tooth grinding and chipping
Reduced risk of injury from protruding teeth.
Braces for ALL Faces
Finding the right braces is the first step toward achieving a perfect smile. Traditional metal braces, ceramic or porcelain braces, and removable aligners are the most common types of braces used today. We'll assist you in determining the best type for your child or adolescent based on your treatment plan, budget, and desired appearance.
The most common type of braces, particularly for children, are traditional metal braces. Metal braces are the most effective and least expensive type of orthodontic braces. Metal braces allow the orthodontist to complete monthly visits more easily and accurately, resulting in a perfect smile. Furthermore, kids and teenagers have a fantastic selection of elastic band colors to mix and match to create a look they love!
Ceramic or porcelain braces work the same as metal braces, but the brackets are less visible and the wires are colored to match your child's or teen's teeth. Clear braces are more expensive than metal braces and can discolor if not cleaned on a regular basis. These are a great option if you want a less noticeable appearance.
Removable aligners have grown in popularity in recent years. They are clear trays that sit on top of the teeth and can be removed for eating and other activities. Removable aligners cannot correct significant bite problems and are generally not recommended for children due to the additional cost and level of personal responsibility required during treatment. If you're looking for a less visible way to correct alignment issues, this could be the treatment for you.
01.
When Should You Begin Wearing Braces?
According to the American Association of Orthodontists, children should have their first orthodontic screening no later than the age of seven. By this age, it will be clear if a child has any jaw alignment issues, overcrowding, overbite or underbite, cross-bite, or other orthodontic issues affecting the child's mouth. The earlier the orthodontic evaluation, the sooner we can determine whether braces are necessary and what treatment plan is best.
How to get braces in Lagos
There are a few things to know before getting braces in Lagos. First, you need to find a reputable orthodontist. There are many orthodontists in Lagos, but not all of them are equal in terms of quality and experience. Do your research and ask around for recommendations before making your decision.
Once you've found a good orthodontist, the next step is to choose the type of braces that you want. There are many different types of braces available nowadays, so it's important to do your research and figure out which one will be best for you. Our orthodontist will be able to help you make this decision.
Finally, you need to be prepared to pay for your braces. Orthodontic treatment can be quite expensive, so make sure you have a budget in mind before getting started. There are many financing options available, so don't let the cost deter you from getting the treatment you need.
If you follow these steps, you'll be on your way to getting braces in Lagos in no time!
Conclusion
Thank you for considering us as your provider of braces in Lagos. We are confident that we can provide you with the best possible service and results. We would be happy to answer any questions you may have about our services or the procedure itself. Please do not hesitate to contact us today to schedule a consultation. We look forward to helping you achieve the beautiful, healthy smile you deserve!